1) The WC is the main contact with the client, and is responsible for all communications and gathering products and shopping cart information.

2) The WC will go over all requirements and specifications with the client.

3) After the client accepts EULA, the WC will walk the client through adding all information to the project center and/or upload information on wip.

4) Once all information has been received, the WC will assign the project to the designer in order start the development process.

5) Based on information and notes revived from the WC, the designer will design and create the site. Once the pinnacle cart is completed, the designer will provide a preview link to the WC in order to present to the client. The client is allowed up to three revisions on the online store; all revisions will be communicated to the designer by the WC.

6) Once a final signoff is received, the WC will obtain required information to setup and integrate the payment gateway of choice on to the online store. (further explained below)

7) The WC will walk the client through the backend control panel, to explain how to modify and control the shopping cart data.

8) Once all the above is complete, the WC will notify the designer that the site is ready to go Live, then the designer will launch the site.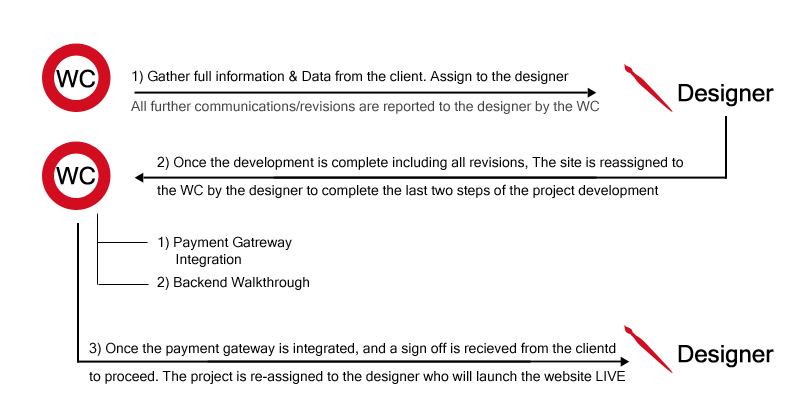 Important Points:



• Payment gateway information must NOT be transferred or saved online via e-mail or any other method, and can only be gathered by the WC over the phone with the client.

• The site can only be launched by the designer. The WC is not authorized to launch the site after development is complete and signoff is received.